Director: Dr. Akira Shimada, in collaboration with the Archaeological Survey of India
Project Asssitant: Ms. Catherine Becker, University of California, Berkeley
Project Advisors: Mr. R. Balasubramanian, The Government Museum, Chennai; Prof. Dr. Jens-Uwe Hartmann, Ludwig Maximilians Universität, München; Dr. Jennifer Howes, The British Library, London; Dr Janice Stargardt, Sidney Sussex College, Cambridge; Dr. Michael Willis, The British Museum, London.
The stūpa at Amarāvatī is one of the most celebrated monuments in India. A flourishing centre of Buddhism for over five hundred years from c. 200 BCE, it remained active until the 14th century when the stūpa was finally abandoned.
Numerous sculptures and inscriptions were found at Amarāvatī during excavations in the 19th and 20th centuries. However due to the use of the stūpa as quarry for building material and the unsystematic nature of early surveys, many sculptures were removed from the site and their context lost. Amarāvatī sculptures are now found in museums throughout India and other parts the world.
The World Corpus of Amarāvatī Sculpture is a web-based node for the stūpa's widely-dispersed remains. The aims of the project are to facilitate access to the site's sculpture and documentation, to encourage the interdisciplinary and international discussion of Amarāvatī and to promote new research and publication on Amarāvatī and Buddhist archaeology.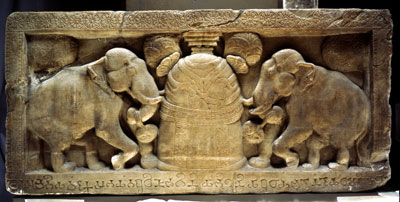 Photo: Coping stone from Amarāvatī showing elephants worshipping a stūpa. The British Museum (Asia 1880. 7-9. 108)
DOWNLOADS:
Bibliography
Museum collections
Buddhist sites in Andhra
RELATED LINKS:
Institut für Indologie und Iranistik, München
The Amaravati Album at the British Library