Director: Dr. Derek Kennet, Department of Archaeology, University of Durham with the Archaeological Survey of India
Paithan is a small provincial town on the banks of the Godavari river in Maharashtra. In the past it was a city of sub-continental and international importance, being one of the few places away from the coast that is mentioned in the Periplus of the Erythrean Sea. Paithan is thought to have been an important centre under the Satavahana dynasty and it subsequently flourished under the Vakatakas and later medieval rulers.

Photo (left): Distant view of Paithan across the Godavari river
Photo (right):View of excavations in progress at Paithan 1999
A large mound at the site, partly overlain by the predominantly Mughal-period town, is testimony to the site's archaeological heritage, as are the numerous archaeological finds that have been made in the vicinity. The Society's work at Paithan, undertaken in collaboration with the Archaeological Survey of India, uncovered two early brick shrines, crucial monuments for the early history of temple architecture in the region. These remains were explored over four seasons from 1996 to 1999.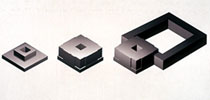 Photo: Isometric reconstruction of the the north temple at Paithan, showing phases of development.
The publication of the excavation is under preparation and will appear as a Memoir of the Archaeological Survey of India. A paper outlining the results of the excavation of the two early temples has already appeared:
Kennet, D and J. V. P. Rao. 'Two Early Historic Brick Temples at Paithan in Maharashtra'. South Asian Studies 19 (2003): 113-123.
DOWNLOADS: