Since October 2016 I have been working on my doctoral thesis at the Chair of Muslim Cultural and Religious History at the University of Erfurt in Germany, which I am currently completing. Over the last three years, I have scrutinised the shifting portrayals of women within Fahmīdah Riyāż's Urdū poetry.
My research examines the connection between progressivism and feminist movements in the Indian subcontinent by looking into 47 hitherto untranslated poems of Fahmīdah Riyāż and analysing their themes regarding the time of Fahmīdah's writing from a historical perspective. Drawing from a philological approach, thereby transliterating and translating the 47 poems, compiled in various nuances of Hindī and Urdū (Hindustānī) into English I tried to carve out the historical, political, social and personal influences reflected on Fahmīdah's work and life to illustrate an image of women in Pakistan. This research aims at understanding South Asian social structures from a feministic lens and contributing to the literature about South Asia.
Fahmīdah Riyāż's work and her diverse feminist and socio-political themes depict a multifarious picture of past and current debates about feminism and women's rights in Pakistan in particular. The Progressive Writers' Movement, which also positively affected the Women's Movement, was one of the many influences for national independence from British rule and sought to modernise thinking and customs of the upper- and middle-classes but especially an improvement for working-class people's statuses. The Progressive Writers' Movement defined "progressivism" as reflecting and interpreting social reality, which included the subject of female rights, female point of view and the oppression of women and men's role in it. In addition, it was a political and social platform for female writers, whose literature and thoughts shaped Fahmīdah's topics and style of writing.
As feminism's face has a different outlook depending on the society and its history, Eurocentric and "white middle-class" notions and definitions of "feminism" can and should not be applied onto South Asia. Fighting patriarchal structures is as important as gender equality in India and Pakistan, wherefore writing about women's feelings or descriptions from a female perspective are the minimum criteria for feminist literature.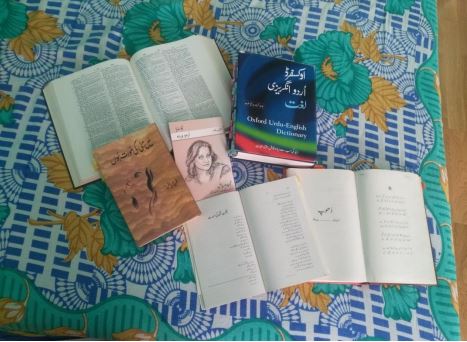 For the selection and linguistic analysis of the poems, I worked in various joint academic and non-academic collaborations. I tried to translate the poems as close to the original text as possible so that the reader is still able to draw own assumptions and conclusions about the theme and details of each poem without enforcing my subjective opinion. For those who are native speakers but cannot read either script – Devanāgarī or Nastaʿlīq, I have given a scientific transliteration. As
Fahmīdah's notion about "feminism" evolved about the equality of women and their rights to express their feelings in the same way as men and behave in the same way as them, there are many outspoken but also hidden metaphors in her poetry. Being politically very active it is not always possible to separate feminist themes such as women's rights, female sexuality or critique of patriarchal structures from social topics or political events. In considering Fahmīdah's background, her personality and historical incidents it shall be clarified if her feminist thinking changes and how it is connected to personal experiences.
It is pertinent to mention that my interest to explore South Asia landed me to ask questions about South Asian culture, identity, gender and literature. South Asian culture attracted me a lot that being a non-South Asian I opted for this area as the core part of my research endeavours. This was the reason that both of my previous degrees more or less revolved around the exploration of South Asian societies, especially from the socio-historical lens. It was exciting for me to understand the socio-historical developments on various fronts which could not be explored in depth without learning South Asian languages, especially when intending to delve into subcontinental literature. Taking the effort to learn Indic and Dravidian languages enhanced my skills in translation and scientific transliteration, for instance, my Master's thesis on Islamic festivals by Naẓīr Akbarābādī.
In past semesters I also taught about progressive and feminist movements in India and Pakistan at the Institute of Indology and Tibetan Studies, Ludwig-Maximilians-University (LMU) in Munich and Hindī and Urdū at the University of Erfurt and the LMU.
Papers and Publications
2020 (Forthcoming): Translation of Fahmīdah Riyāż's poem "Excuse me for my blasphemy", In: Jamal Malik: Handbook of Oriental Studies – Section 2: South Asia (Leiden: Brill, 2020)
2019 (forthcoming): Book review "Interpretations of Jihad in South Asia: an intellectual history", Contemporary South Asia
29th – 30th July 2019: Presentation " arīfoṉ se – Contextualising the critique of patriarchal structures in a selected nażm of the feminist poet Fahmīdah Riyāż", Pakistan Seminar, Oxford, United Kingdom.
28th June 2019: "ḫākam ba-dahan – A contextualisation of the critique at
religious authorities at a selected poem of the feminist poetess Fahmīdah Riyāż", Presented at 1. Deutscher Südasientag, Bonn, Germany.
3rd – 5th April 2019: "Feminist progressive writers and Urdū li-terature – The predecessors of Fahmīdah Riyāż and their influence on her poetry", Presented at British Association of South Asian Studies (BASAS) Annual Conference, Durham University, United Kingdom.
23rd June 2017: "Postmodern Urdū poetry and Fahmīdah Riyāż – A translation and interpretation", Presented at 2. Mitteldeutscher Südasientag, Halle, Germany.
Contact details
Email: reka.mate@yahoo.de
Online profile: https://www.indologie.uni-muenchen.de/personen/6_lek_lehrbeauf/mate/index.html
Academia: https://erfurt.academia.edu/RékaMáté